News

1.
In June 2003 I made an agreement with Cannonball Fine Art, CFA,
in the US. CFA is an artist agency, publisher, distributor and gallery
that represent art and artist from around the world.

By signing the agreement I have appointed CFA to act
as my agent for exhibition and sale of by me and CFA approved work.

2.
I was selected to attend the 2003 International Art Contest.
My contribution was "Rose hips", number 177, within the genre Realism.
If you wish, please click image to view the result and the contributions.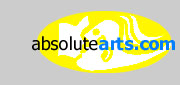 3.
In June 2003 I was selected to be an absolutearts.com Premiere Portfolio Artist.
Abolsuterarts.com is part of the company World Wide Arts Resources, wwar.com, founded in 1995.
In 1999 wwar.com added the absolutearts.com umbrella which focuses on arts marketing services.

The jury's decision:

"The jury was impressed by the professional quality of both the art and the manner in which
you represent yourselves. We are excited to have you as part of this elite group."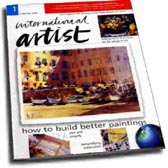 4.
I have been contacted by the International Artist Magazine and they
will perhaps publish some kind of information about me, in the future.
It is very flattering and I am simply amazed about this.
I will off course inform more about it later on.
May 2005:
One of the three photos I sent was returned, it had not been used
in the magazine. The magazine still have two photos in their possession, and they say: "They are being kept for possible inclusion (of one or both) in an International Masters Showcase. This can take a long time because we have so much material waiting." So, I guess I just have to wait and keep my fingers crossed while doing so...

5.
I have recently opened a PayPal account. This will make the money transfer
much easier. The web site will be updated shortly with functionality that will make
this process easier. But, everything takes time....and I do prefer to spend it painting.

6.

My mail addresses artbywinberg@bolina.hsb.se will soon stop working. Please use the following ones to get in contact with me;

info @ artbywinberg.com

order @ artbywinberg.com

info @ artbywinberg.com or in the future to get in contact with me.


7.
In October 2004 I made an agreement with SPIRAL about being listed in their Artist Listing, see description below. Spiral is a licensing, publishing and distributing company located in France. "A unique listing of fresh artists and their artwork available for licensing. They are aware of the demands for reproduction, the basics of licensing and what it involves and they are all actively open to evaluate in the licensing market. Every artist is represented by SPIRAL for licensing possibilities."

8.
I and few other artists where contacted by Bernardo Uzeda, a music composer from Brasil. He mentioned that he made music for television, film and sometimes meditation purposes. He was about to do a short film on DVD, basically a sequence of paintings with soundtrack. He said "I think artworks are so inspiring, they inspire so much my music that sometimes I hear music when I see a painting, and each painting has a unique feel, a unique world."He mentioned that all the participating artists will be credited on the end credits of the film. Bernardo asked if he could get my permission to use images of my paintings. A very flattering request and off course I agreed.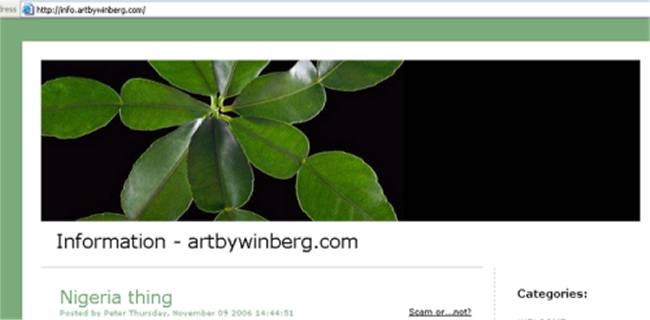 9.
I have created a blog page! You can find it at
info.artbywinberg.com
I am not sure what kind of information I will post on the page. At the moment I have gathered a bunch of suspiscious e-mails I have got. I do get a lot of proposals, regarding exhibitions, magazines and purchases. Some of the scam attempt are easier than others to see through. Please visit the page if you wish.Suggestions regarding content are more than welcome.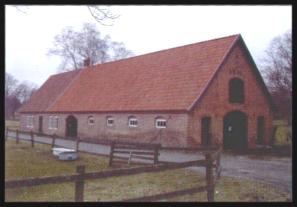 10.
In May 2007 I became a member of Skurup District Arts and Crafts Society. The society was founded 1994 and has about 50 members today. Each year the society holds exhibitions, e.g. the one at "Svaneholms Trädgårdsmästarbostad" during "Konstrundan". Svaneholm is a large castle and the building was actually the gardeners house once upon a time. "Konstrundan", or "The Art tour" in English, is a well known event that occur during Easter each year. Several hundred thousand people find their way to artists and exhibitions around Skåne, the most south landscape in Sweden.